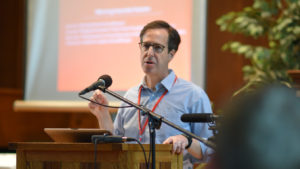 There is something unusual and powerful about hearing someone's ideas vocalized in an unscripted way. Because informal speech communicates ambivalence, effort, and excitement much better than traditional academic writing and media coverage of research, podcasts present a unique opportunity to show the public how the expertise of the academy is relatable and valuable. This communication is especially important right now.
In this episode our host,
Dan Cohen
gives the opening keynote at the
Sound Education Conference
, which brought together hundreds of educational and academic podcasters and podcast listeners at Harvard on November 2nd. Special thanks to Doug Metzger for his opening remarks, Joseph Fridman for recording the keynote, Blair Hodges for the episode image, and to the whole Sound Education Conference team for putting on a great conference.
Download Episode 22