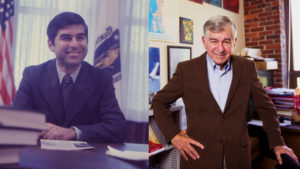 Joining us on Episode 21 is three-term governor, presidential candidate, and public transportation advocate Michael Dukakis.
Images of Michael Dukakis provided by FayFoto Collection, Northeastern University Library Archives and Special Collections (L) and Brooks Canaday, Northeastern University (R)
Michael Dukakis
was born in Brookline, Massachusetts on November 3, 1933. His parents, Panos and Euterpe (Boukis) Dukakis both emigrated from Greece to the mill cities of Lowell and Haverhill, Massachusetts before marrying and settling in the town of Brookline, just outside Boston. Dukakis graduated from Brookline High School (1951), Swarthmore College (1955), and Harvard Law School (1960). He served for two years in the United States Army, sixteen months of which he spent with the support group to the United Nations delegation of the Military Armistice Commission in Munsan, Korea.
Dukakis began his political career as an elected Town Meeting Member in the town of Brookline. He was elected chairman of his town's Democratic organization in 1960 and won a seat in the Massachusetts Legislature in 1962. He served four terms as a legislator, winning reelection by an increasing margin each time he ran. In 1970 he was the Massachusetts Democratic Party's nominee for Lieutenant Governor and the running mate of Boston Mayor Kevin White in the year's gubernatorial race which they lost to Republicans Frank Sargent and Donald Dwight.
Dukakis won his party's nomination for Governor in 1974 and beat Sargent decisively in November of that year. He inherited a record deficit and record high unemployment and is generally credited with digging Massachusetts out of one of its worst financial and economic crises in history. But the effort took its toll, and Dukakis was defeated in the Democratic primary in 1978 by Edward King. Dukakis came back to defeat King in 1982 and was reelected to an unprecedented third four-year term in 1986 by one of the largest margins in history. In 1986, his colleagues in the National Governors' Association voted him the most effective governor in the nation.
Dukakis won the Democratic nomination for the presidency of the United States in 1988 but was defeated by George Bush. Soon thereafter, he announced that he would not be a candidate for reelection as governor. After leaving office in January 1991, Dukakis and his wife, Kitty, spent three months at the University of Hawaii where Dukakis was a visiting professor in the Department of Political Science and the School of Public Health. While at the University of Hawaii, he taught courses in political leadership and health policy and led a series of public forums on the reform of the nation's health-care system. There has been increasing public interest in Hawaii's first-in-the-nation universal health insurance system and the lessons that can be learned from it as the nation debates the future of health care in America.
Since June 1991, Dukakis has been a Distinguished Professor of Political Science at Northeastern University and Visiting Professor at the School of Public Policy at UCLA. His research has focused on national health care policy reform and the lessons that national policy makers can learn from state reform efforts. Recently, he and former U.S. Senator Paul Simon authored a book entitled How to Get Into Politics-and Why which is designed to encourage young people to think seriously about politics and public service as a career.
Dukakis was nominated by President Clinton for a five-year term as a member of the Board of Directors of Amtrak, The National Railroad Passenger Corporation on May 21, 1998 and was confirmed by the Senate on June 25, 1998. He served a full five-year term on the Amtrak Board as Vice-Chairman.
Mike and Kitty Dukakis have three children: John, Andrea, and Kara, and are the proud grandparents of seven grandchildren.
Download Episode 21
Transcript of Episode 21